What to Look For in a Camping Chair?
To determine which camping chair is best for you, you will have to sift through material types, portability, price and many more. Therefore, we have put together a handy camping chair guide to make the choice a little easier. We go over the portability, weight capacity, materials and price of camping chairs to help you decide.
HERE'S WHAT YOU SHOULD LOOK FOR WHEN YOU'RE BUYING A NEW CAMPING CHAIR.
1. Materials
First, let's take a look at the materials used in making one camping chair. There is a vast variety of camping chair materials that you can choose from when shopping for a camping chair. But, most current models have aluminum legs and body frame. This is because aluminum has a high strength-to-weight ratio. Plus, aluminum is corrosion resistant so it prevents rust.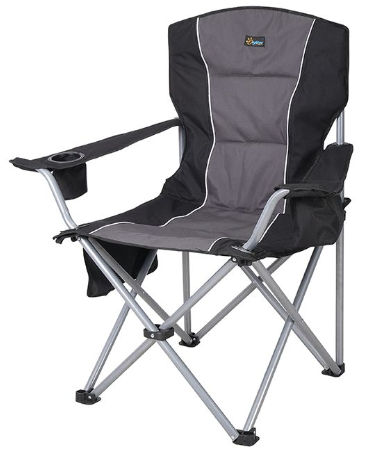 As for the seats and armrests, a coated rip-stop nylon fabric is used because of its durability and water resistance capabilities. But some brands use closed-cell foam padding instead for extra support and cushioning. Compared to nylon, these closed-cell foam pads are a lot more comfortable. Both the nylon and foam fabric are very durable. You'll get many years of use from either of these fabrics.
>> Find out the best camping chairs to buy in 2022
2. Portability
Portability plays a huge role in determining which camping chair is the best one for your outdoor adventure. You should look for light and sturdy chairs that are convenient to transport. It's true that camping chairs need to be well padded and ruggedly built but they also must be compact for carrying. You have to ask yourself if it can be conveniently carried and stored without taking up too much space before deciding on which camping chair to buy.
The best portable chairs should be easy to transport and must come with a carry case that has handles or straps. You can find a replacement bag for camping chairs here. It also needs to pack down as small as possible. If you value convenience over comfort, portable folding camping chairs are the best choice. You should have no trouble fitting it inside a backpack or securing it outside for a hike.
3. Weight
Another key to look out for when buying a camping chair is its weight. Carrying heavy gears and equipment for long distances can lead to lower back pain. So, you have to factor in the overall weight of your camping chair before buying it. Ideally, it is best to settle for a chair that weighs less than 2 pounds. You can take lightweight camping chair anywhere without stressing your back.
But you can choose to bring in heavier camping chairs with extra features on a car camping trip. Same goes if the campsite is within a short walking distance. Do note that most luxurious camp chairs are intended to be heavy and can weigh more than 5 lbs.
4. Weight capacity
Not all camping chairs can hold the same amount of weight. That's why it is very important to check the weight capacity of a camping chair before buying it. The chair you choose should be able to hold your weight easily without showing any signs of strain. Camping chairs for heavy person are designed to hold between 225 pounds and 500 pounds. But you can always go for an heavy duty camping chair if you want something that can hold more weight than any other chair. 150kg camping chair is the most popular one. You can also get a camping chair for two instead of one if weight capacity is your main concern.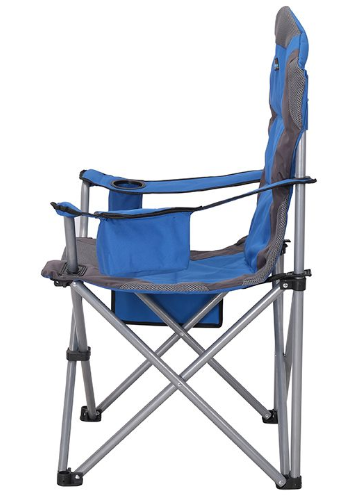 5. Price
Recliner luxury camping chair are one of the most expensive camping chairs out in the market. But just because a camping chair is priced at $100 it does not guarantee higher quality. Every person is different and has unique preferences. You don't have to buy the most expensive camping chair out there to get something that's exactly what you need. It's about finding the right chair that fits your budget. That could even mean choosing a camping chair on the cheaper end of the spectrum without a big brand name. So, don't overthink the camping chair price.
6. Extra features
If you prefer minimalist camping chairs then that's completely fine. But if you want to level up your camping chair for extra relaxation then you should look out for features. Camping chair with side table, camping chair with armrest, camping chair with rain cover, and camping chair with umbrella are rising in popularity nowadays. Camping chair accessories are as follows:
ㆍDetachable footrests
ㆍCanopy for camping chair
ㆍUmbrella
ㆍWheels
ㆍExtended pads
ㆍCooler
ㆍBottle opener
ㆍStorage pockets
ㆍHead pads
Note: Eventually, these features add to the overall weight of the chair, and a heavy camping chair is surely not ideal for hiking.
Conclusion:
To be clear: there is no single "best" camping chair for everyone. Camping chairs come in various shapes, sizes, and have multiple functions. So, it does pay to take the time to find a chair that fits your expected uses and includes your preferred features. Next time you decide to buy a camping chair, take these things into consideration to get the most out of your outdoor experience. We are a camping chair supplier. If you are interested in our products, please contact us now!