Types of Galvanized Pipe Fittings
In order to improve the corrosion resistance of the pipe fittings, the factory generally galvanizes the pipe fittings.
Generally speaking, galvanizing is divided into two types: hot-dip galvanizing and electro-galvanizing.
And in terms of the sizes and shapes of galvanized pipe fittings,there are including: bushings, elbows, couplings, caps, tees, unions, and hex plugs
Hot-dip galvanizing
Hot-dip galvanizing is to make the molten metal react with the iron matrix to produce an alloy layer so that the matrix and the coating are combined. The hot-dip galvanizing step for pipe fittings is to first degrease the pipe fittings, and then pickling to remove iron oxide on the surface of the steel pipe. Then, the pipe fittings are immersed in a plating tank where zinc has been heated and melted in advance, and a zinc coating is formed on the surface of the pipe fittings, and finally, it can be lifted out.
Hot dip galvanizing is a chemical treatment. A complex chemical reaction occurs between the base of the pipe fitting and the molten zinc to form a zinc-iron alloy layer with corrosion resistance and a compact structure. The alloy layer is integrated with the pure zinc layer and the pipe fitting matrix. Therefore, Hot dip galvanized pipe fittings have strong corrosion resistance.

Hot-dip galvanized malleable iron pipe fittings
Electro-galvanizing
Cold galvanizing is also called electro-galvanizing. The amount of galvanizing is very small, only 10-50g/m2, and the zinc layer is independently layered from the base of the pipe fittings. Electrolytic galvanizing is to use electrolysis to make the zinc layer simply adhere to the base of the pipe fittings, and it is easy to fall off, so its corrosion resistance is poor.
The step of cold galvanizing for pipe fittings is to first degrease and pickle the pipe fittings, and then use electrolysis equipment to put them into a solution of zinc salt, and connect the negative electrode of the electrolysis equipment. A zinc plate is placed on the opposite side of the pipe and connected to the positive pole of the electrolysis device. When the power is turned on, the zinc ions move in the direction of the current from positive to negative, depositing on the pipe fittings. Cold galvanizing is a physical treatment, just brush a layer of zinc on the surface, so the zinc layer of pipe fittings is easy to fall off.
The difference
Although it is difficult to see the difference between the type of pipe fittings on the surface, in essence, they are very different.
Hot-dip galvanized pipe fittings have the advantages of uniform coating, strong adhesion, and long service life. In terms of zinc layer thickness, hot-dip galvanizing is dozens of times that of cold galvanizing, and the corrosion resistance is also dozens of times that of electro-galvanizing.
Electro-galvanized pipe fittings have a low cost, relatively cheap price, and a delicate and bright appearance.
Hebei Jianzhi Casting Group, following years of research and development, has made a significant breakthrough in electro-galvanizing, making the surface of electro-galvanizing almost the same as that of hot-dip galvanizing. This technology has been granted a Chinese design patent. The figure below illustrates a display of hot-dip galvanized pipe fittings and electro-galvanized pipe fittings produced by Hebei Jianzhi Casting Group.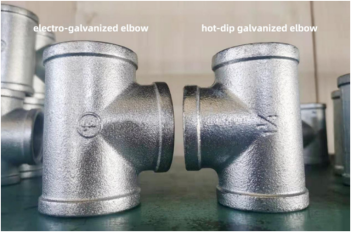 Jianzhi galvanized pipe fittings
Hot-dip galvanizing is suitable for pipe fittings for outdoor work, such as outdoor sports facilities, power towers, bridges, and other large-sized fasteners that require long-term rust resistance. Electro-galvanizing is generally used for rust prevention of small-sized fasteners and pipes for indoor use.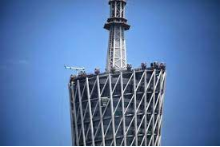 galvanized malleable iron pipe fittings for Canton Tower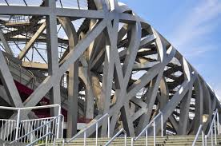 galvanized malleable iron pipe fittings for Beijing National Stadium
Types of Galvanized Pipe Fittings
Galvanized malleable iron pipe fittings connect to piping for transporting fuel oil, water, gas, and other liquids for chemical, waste incineration, and semiconductor industry applications. These fittings are pipe with thick walls, impregnated with a protective zinc coating that protects against rust, corrosion, and mineral buildup and withstands wet conditions. The female threads are located on the inside of the fitting. The male threads are located on the outside of the fitting and screwed into the female threads. Threaded connections include NPT (American Standard Threads) or BSPT (British Standard Pipe Taper) and are sealed with PTFE tape retention. Threaded galvanized pipe fittings are available in a variety of sizes and shapes
Galvanized Elbows: Galvanized elbows are available in two different sizes, 45 degrees and 90 degrees. They are used to change the direction of the water flow. The connection will be directly connected to the pipe. There are also 45-degree and 90-degree street elbows. Unlike regular elbows, street elbows are attached to galvanized fittings rather than the pipe itself and are also used to change the direction of the pipe.

Galvanized Couplings: Galvanized Couplings are used to join two tubes together. couplings form a tight fit to prevent any leaks.

Galvanized Caps: Used to form airtight safety caps for the ends of galvanized pipes.

Galvanized Tee Fittings: Used to combine or separate fluid flows, galvanized fittings are the perfect solution for adding to piping systems to connect pipes of different diameters or when pipes need to run in different directions.

Galvanized Unions: Often confused with couplings, unions connect two pipes. The difference between the two is that unions provide a faster and easier way to disconnect a pipe in the event that maintenance is required.

JIANZHI Galvanized Pipe Fittings
Founded in 1982, Jianzhi is a leading manufacturer and supplier of Galvanized Pipe Fittings. Till now, Jianzhi has about 4,500 employees and more than 350 technical engineers with distributors covering over 100 countries around the world. Jianzhi is committed to building a safer world by bring­ing premium Galvanized Pipe Fittings to every household and building
STANDARD SPECIFICATIONS:
Standard: EN10242 /ANSI / ASME B16.3 / DIN2950 / ISO 49 / NBR6943 / IS1879 / BS EN10242
Threaded Standard: EN 10226 / ASME B.1.20.1 / DIN2999 / IS07-1 / IS0228 / IS554 / BS EN 10226
WORKING PRESSURE:
Galvanized fittings have average thickness of 86µm minimum or average coating weight of 610 g/m'
TYPES: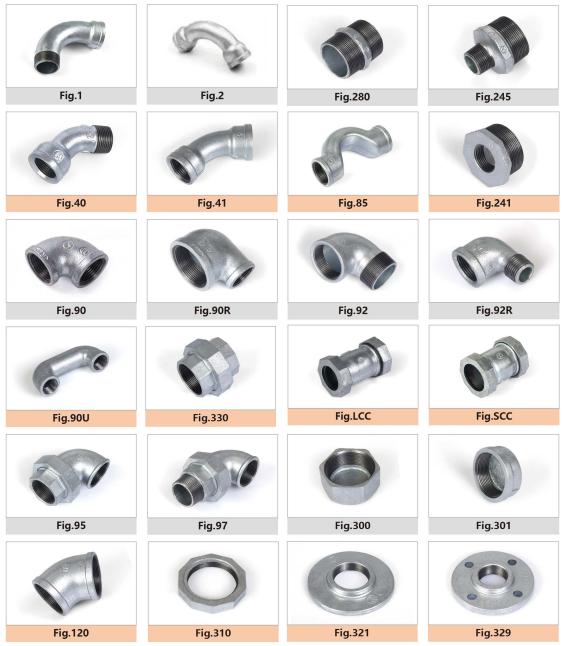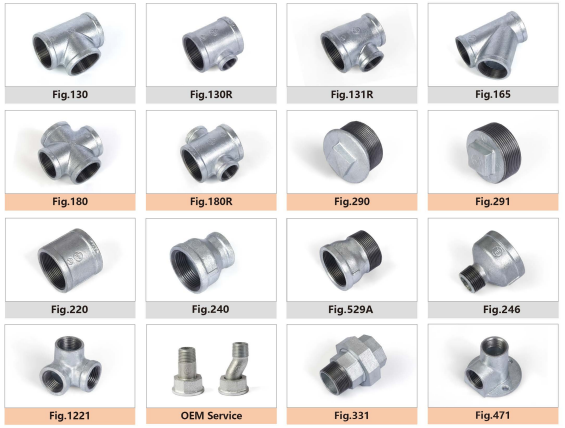 Looking for the best-galvanized pipe fittings online?
You have come to the right place. JIANZHI leading factory of malleable cast iron pipe fittings and galvanized pipe fittings, we can offer you high-quality products at competitive prices. We supply quality galvanized pipe fittings to North America, Europe, the Middle East, and other countries and regions, that's why we can offer the best products at the best prices, including elbows, couplings, tees, nipples, nuts, caps, crosses, bends, and flanges, unions. we also cover your sizes, details can be found by clicking on our specific products or contacting