Tips on How to Buy A Cast Iron Skillet
Cast iron pans have been used for cooking for hundreds of years. There are many advantages to using cast iron for cooking. Because pans are cast as a single unit, with no separate parts to break, they are very durable. Some pans have been passed down through generations in a family. Cast iron pans conduct heat well and can be used on the stove, in the oven, or over an open flame.
Cast iron comes in a variety of sizes and shapes for many different types of cooking. Cast iron pans also require seasoning and regular oiling to maintain a non-stick surface, and they are not dishwasher safe. If you're considering a purchase, here are some tips on how to buy a cast-iron skillet.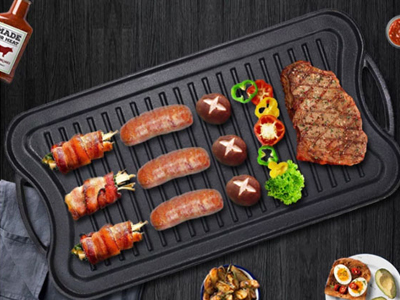 Cast Iron Rectangular Pan
1. Decide whether you want a traditional or enameled cast iron skillet.
Consider the fact that traditional uncoated cast iron must be seasoned (covered in oil and baked at high temperatures) to create a non-stick surface.
Pre-seasoned cast iron pans are available, but they are usually more expensive than unseasoned pans. Once a traditional cast iron pan has been seasoned, it should not be washed with soap or put in the dishwasher. Scraping food out of the pan, applying a thin coat of oil, and keeping it away from moisture to prevent rusting is the best way to care for traditional cast iron pans.
When properly cared for, these pans will last for decades. A 12-inch (35 cm) uncoated cast iron pan costs about $15 to $70. Pans from well-known cast iron pan manufacturers cost more but feature tighter lids and cooking surfaces that are less likely to stick to food.
If you want a pan that is easier to care for than an uncoated one, choose an enameled cast iron pan. They do not require seasoning and can be cleaned with soap and water. They can also be used to cook acidic foods; using uncoated cast iron for cooking creates a reaction that produces metallic-tasting foods.
However, enamel can chip, and the color you choose may go out of style. Unlike traditional cast iron, enamel-coated cast iron cannot be used for campfires. Enameled cast iron pans are more expensive than uncoated ones; a 12-inch (35 cm) enameled pan costs about $40 to $200. Prices vary widely, depending on whether the pan has enamel on the inside and outside, and how much enamel flaking you may experience over time. Well-known name brands tend to be more expensive, but their enamel is less likely to chip.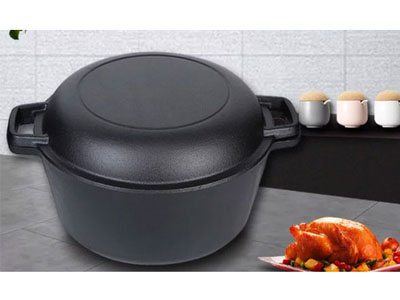 Double Dutch Oven
2. Decide what type of pan you want.
There are 2 common types of cast iron pans: skillets and Dutch ovens. When considering the size of the pan, keep in mind that larger pans will be heavier, so choose the smallest pan possible to meet your needs.
Choose a skillet if you intend to fry or sauté meat. Skillets are also good for making frittatas and oven pancakes. 10.25-inch (26 cm) or 12-inch (35 cm) are the most common and most versatile sizes. Some have an extra handle on the front of the pan to allow you to more easily lift the skillet out of the oven.
Buy a Dutch oven if you want to cook soups, stews, sauces, roasts, or other baked dishes. Dutch ovens are deeper than skillets and come with a lid. A 5-qt. (4.7 L) or 6-qt. (5.7 L) pan is the most common choice, and will generally hold 8 servings of soup or stew or 6 large baked potatoes. Choose a Dutch oven with legs on the bottom (called a "spider") if you want to use your pan over coals or in a campfire.
Sarchi Cookware is a professional cast iron skillets manufacturer, that is committed to creating quality and durable cookware, and has been always working hard. More than a dozen DISA automatic production equipment and dozens of enamel and vegetable oil spraying equipment meet the purchase of brand customers from more than 30 countries such as Europe and the United States. We also can offer OEM services including customized products, packaging, accessories, etc according to our customer's demands.