The Importance of Traffic Sign Stands
Road conditions can vary wildly. When the skies are clear and the sun is shining, you may feel perfectly safe driving on the highway, but then find yourself panicking in a thunderstorm. Just as drivers have to endure extreme road conditions, so do traffic signage. Whether your construction site requires permanent or temporary road signs, these signs are critical to maintaining road safety.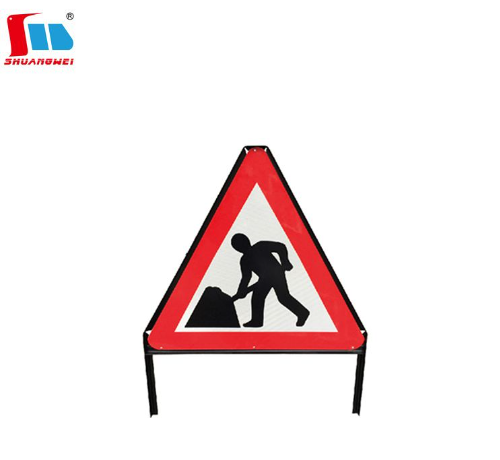 Protecting Road Workers
When we say road workers, we're not just talking about our employees. Road workers include construction workers, flaggers, trash collection teams and road maintenance crews. From the teams mowing medians to the construction workers repaving the road, everyone should have the necessary signs needed to ensure safety.

Temporary road signs are critical to construction zone safety. Permanent road signs can provide critical direction and long-term notification, but temporary road signs can provide clear direction to drivers in more volatile situations. For example, your daily driver cannot anticipate road crews working at different locations throughout the highway. Therefore, temporary road signs that can move with the fleet are needed to alert drivers.
Protecting Construction Assets
As all foremen know, road projects can be severely delayed by inclement weather. A bad week of rain can set you back considerably. Workers either stay home or work on less weather-sensitive projects. But most large construction equipment stays on site. These assets may be protected against theft and surrounded by barriers, but sometimes that's not enough to keep them safe.
Drivers driving too fast in the rain may not see the gray barrier at the end of the work area, or even the yellow backhoe. If they lose control and hit an obstacle or your equipment, your project could be significantly delayed.
Temporary road signs stand out in rainy days and gray skies. These simple signs can save you time and money by alerting drivers to equipment and barriers that may not have been there before.
Easy to set up and clean up
Temporary road signs are quick and easy. All you need is a stand and a sign. One or two people can set up the work zone sign while the rest of your crew is getting ready for the day. Need to move on to the next section of the road? No problem. Place the sign on the truck and you're ready to go.
SHUANGWEI TRAFFIC (SW Traffic), as a leading manufacturer of traffic control and work site safety products, if you want to know more information about traffic signs, please contact us. We will provide professional answers.