Is It Worth Buying A Freestanding Bathtub?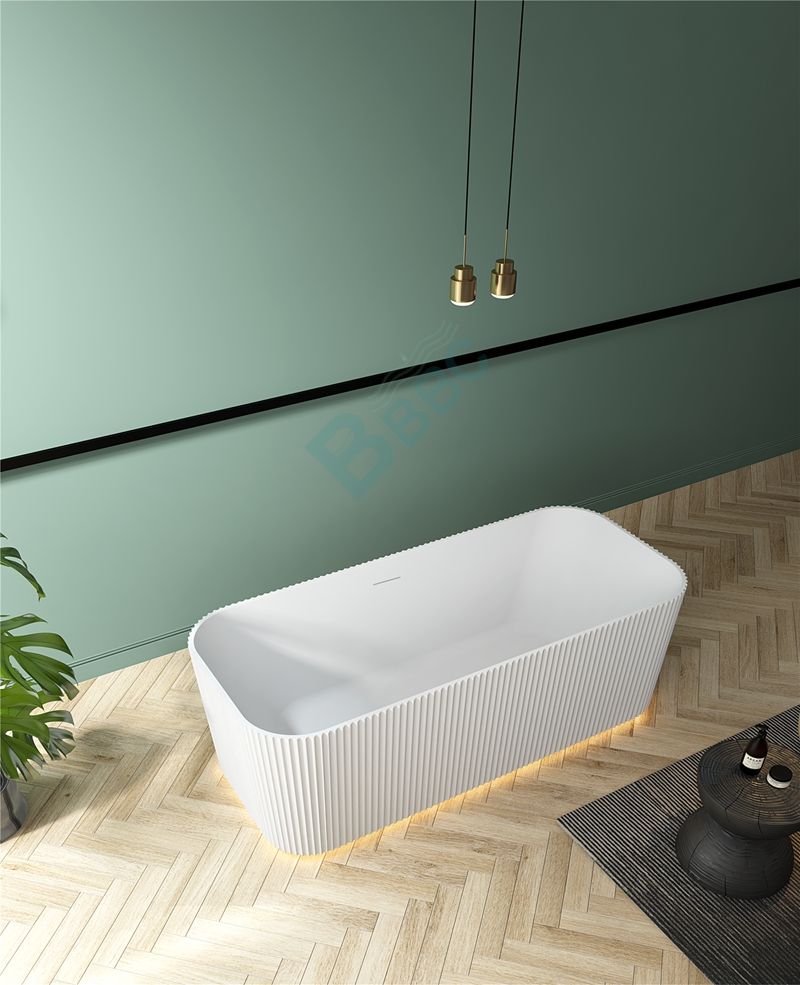 What Is A Freestanding Bathtub?
A freestanding bathtub stands alone in your bathroom without being attached to a supporting wall structure. They usually sit directly on the floor or are mounted on feet, making a great centrepiece for any bathroom design.
You might envisage a freestanding bathtub to be the focal point of a bathroom with oodles of space all around it. This is true with bathrooms of a certain size, but with a huge variety of sizes and styles now available, space isn't the issue it used to be. While they do make a stunning showpiece, you're left with the freedom to dictate how you want it to impact your bathroom design.
Without the restrictions of having to be up against the wall or tucked away in a corner, the structure of your freestanding bathtub can be whatever suits you and your family best. It can be narrow and shallow for young kids, or deep and wide if you're someone who likes a long relaxing soak in the tub after work.
Freestanding Bathtubs Pros and Cons
If you're not sure whether a freestanding bathtub is best for you, here are a list of the pros and cons:
Pros
ㆍDue to the fact they can be placed anywhere in your bathroom, there is no limit when it comes to style or design. You can choose the perfect bathtub for you and your family without worrying about space.
ㆍIt has a unique look and adds a luxurious feel to your bathroom. Often used in high-end hotels and spas, a freestanding bathtub is a focal point for a stunning bathroom design.
ㆍWith no need to be connected to walls, installing a freestanding bathtub is quick and easy.
ㆍYou are free to place a freestanding bathtub anywhere in your bathroom. This gives you total freedom to fit your bathtub into the design of the room. Do you want it under a skylight or facing out the window for a beautiful view? No problem.
ㆍFreestanding bathtubs can be moved around – so if you feel like changing the layout of your bathroom this is a useful benefit.
Cons
ㆍFreestanding baths are generally more expensive than built-in tubs, even when installation is considered. This is because they're more complex and usually of more luxury design.
ㆍFreestanding baths are much heavier than built-in baths, sometimes requiring a reinforced floor which adds to the cost. Particularly for freestanding bathtubs made from stone or metal materials.
ㆍStorage can be an issue for freestanding baths. The go-to ledge at the corner of a built-in bath for your shampoos and soaps simply doesn't exist on a freestanding model. You can avoid this issue if you purchase a rolling caddie.
ㆍFreestanding bathtubs are usually much bigger than built-in baths. This can be a problem when trying to navigate it into the right spot in your bathroom. Some are even too tall to lean over the side, making bathing a child or pet difficult.
ㆍIf you want to discuss whether a freestanding bathtub is the right option for you and your bathroom, why not get in touch with our team and they will be more than happy to help you.
Can You Put A Shower over A Freestanding Bathtub?
It can be difficult to put a shower over a freestanding bathtub – if you're set on having a shower as well, a built-in bath might be the route you want to go down. If you really need a shower with your freestanding bathtub, it can be done, but it may spoil the aesthetics of your new tub. The elegant design of freestanding bathtubs would need to be wrapped in a shower curtain to avoid water spillages. One possible solution is getting a small hand-held shower unit for the end of the freestanding bathtubs for rinsing off.
What Material Should I Buy?
Acrylic bathtubs are a common feature in modern bathrooms, and this is for a number of reasons. The material is more affordable than other options, and it's easily maintained. An added bonus to using acrylic material is that it's excellent at absorbing and retaining heat – perfect if you're someone who likes a lengthy relax in the tub, it will also reduce the energy use of taking a bath.
Bathtubs Wholesale
BBBC is one of the leading bathroom furniture manufacturers, suppliers and factories in China. Our factory provides high quality bathtubs made in China at competitive prices. Welcome to contact us for details. With incredible project management experience and a one-to-one supplier model that makes communication easier for small businesses, we easily understand the importance of your expectations.