Functions and Considerations for Hospital Beds.
Hospital beds are a type of medical equipments. Hospital beds are more powerful than the beds we use every day and can help patients or users relieve the pressure of physical or psychological burdens, enhance the user's experience, create a comfortable treatment and use environment, and improve the user's confidence and quality of life.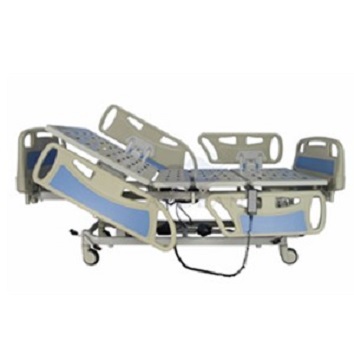 What are the functions of a hospital bed?
Back-raising function
It can help lift the back of the patient in bed and relieve the pressure on the back. Some hospital beds can be fitted with dining boards on both sides of the guardrail to facilitate the patient's daily life such as dining and reading books.
Leg bending function
Helps patients to lift and lower their legs to promote blood flow in the legs, and can be used in conjunction with the back raising function to adjust body position and create a comfortable bed environment.
Turning function
Helps patients to turn on their left and right sides to promote blood circulation, relieve local pressure on the body and prevent the development of bed sores.
To help with continence
Some hospital beds have a helper hole at the patient's hip position, and together with the back bending leg, the patient can sit and defecate, and the electric commode can be activated with one key, easily completing the care of defecation.
Folding guardrail
Foldable guardrail for easy access to the bed.
Infusion rack
Convenient for patient infusion treatment.
Head and tail of bed
Increases the protective area to prevent the patient from falling and causing secondary injuries.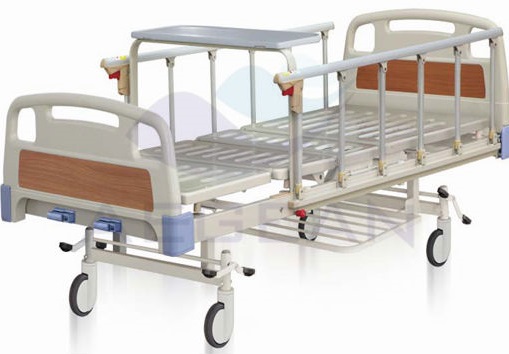 What points should I pay attention to when using a hospital bed?
When not using the medical bed try to place it in the lowest position, cut off the power supply, wind its power cord to a safe place and fix the universal wheel.




Do regular checks to see if the control cables and actuators are secure and check if the screws are loose.




Use neutral washing to ensure cleanliness, do not use acid or alkaline to prevent corrosion.




Avoid bumping during use to prevent damage to other accessories and the medical bed.




If contact with acidic or alkaline liquids occurs, wash immediately and wipe clean with a dry cloth.




If you need to replace or repair your medical bed, you should contact the hospital or the regular manufacturer and not dismantle it yourself.
Jiangsu Aegean Technology Co., ltd. is the leading official medical furniture manufacturers, we can provide OEM medical device and hospital equipment. Just contact us!