Different Types of Lathe Chucks
A lot of different forces are generated when cutting operations are performed on a machine. To avoid vibration and reduce jerk during cutting operations, the tool needs to be held firmly in the tool post with the help of bolts.
There are various types of workholding devices for different operations. We will focus on describing the differences between the types of lathe chucks.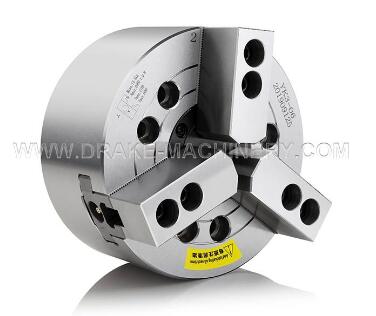 Lathe Chucks
A lathe chuck is mounted on the headstock of a lathe and can be actuated manually or under power. Typically, it is used to hold a rotating workpiece, such as a bar, and some can also hold irregularly shaped objects that lack radial symmetry. Although the primary function of a lathe chuck is intended for lathes, there are cases where a manual chuck can also be mounted to a milling machine to achieve concentric clamping.
Manual Lathe Chuck: manually open or close jaws with a screw or pinion. A manual type of chuck is actuated by using a T-handle wrench in the access holes on the outside diameter of the chuck. The manual chuck might be equipped with one-piece jaws, or two-piece jaws with a removable top jaw. To improve efficiencies, Schunk also offers a "quick-change" chuck which allows the changing of jaws in seconds compared to minutes, allowing you to increase your productivity.
Power Lathe with Quick-Change Jaws: allows manufacturers to spend more time cutting than setting up the machine. Additionally, the Power Lathe with Quick Change Jaws reduces the time it takes to change the setup on a chuck from each job, providing fast return on investment for a chuck which costs more upfront than a standard soft top jaw.
Power Lathe Chucks with Through Hole: the through-hole makes possible the machining of large raw material diameters, and the functional components hardened and ground on all sides guarantee a high degree of run-out and repeat accuracy. This also allows for bar-feeding applications for ultimate throughput, keeping the machine running all the time.
Power Lathe Chucks without Through Holes: like the power lathe chuck with through-hole, this chuck also guarantees a high degree of runout and repeat accuracy. Chucks without through-holes are also well protected against dirt and chips, which makes them appropriate for use in both vertical and horizontal lathes.
Pneumatic Power Chucks: with large through-bores, this power chuck is good for machining pipes and comparable workpieces typically found in Oil and Gas industries. The chucks are actuated pneumatically via a mounted or integrated cylinder. The main benefit of these clamping devices is the fact that they do not require space for a hydraulic unit. As a result, they are appropriate for fast opening and closing movements of the clamping device.
Different workholders and lathe chucks are used depending on the operation. Learn more about our selection of lathe chucks with Drake, our preferred supplier for this type of toolholder.
For more information, and to inquire about buying workholding tools for your shop, contact us.