Classifications and Applications of Vacuum Hot Press Sintering Furnaces
For the sintering of metals, ceramics and some refractory intermetallic compounds powders, there are currently three main types of pressurized sintering, hot isostatic sintering and thermocompression sintering.
Hot pressing sintering is the process of densifying the product by using thermal and mechanical energy.Vacuum Sintering Furnace can further improve the sintering temperature of the product, effectively reduce the gas in the microporous and improve the quality of the finished product. HAOYUE shares some classifications and applications of vacuum hot pressing sintering furnace.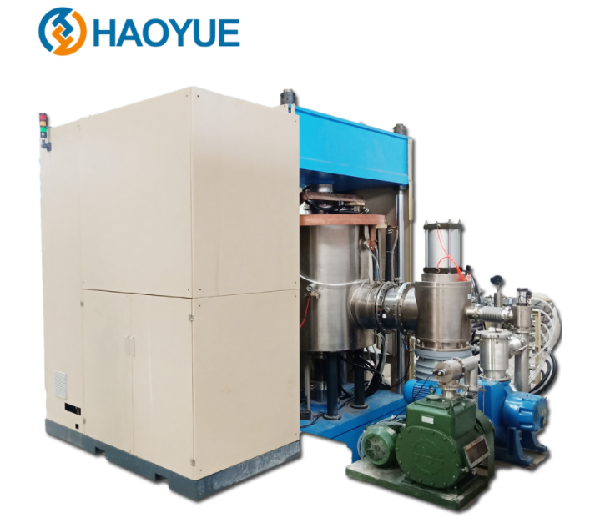 Hot Sale P4 Vacuum Hot-Pressing Sintering Furnace
Classifications
According to the temperature
800℃:For the furnace with the temperature below 800℃, the heater often uses iron-chromium aluminum, nickel-chromium wire as the heating element, and the insulation material often uses high temperature aluminum silicate insulation felt.
1600℃: metal molybdenum, silicon molybdenum rod, silicon carbon rod and graphite rod are often used as heating elements. Composite carbon felt, mullite felt and graphite felt are often used as insulation materials.
2400℃:Graphite tube and tungsten are often used as heating elements or induction heating method, and graphite felt is often used as insulation material.
According to the use environment
Vacuum hot pressing sintering furnace: Hot pressing sintering is carried out under a certain high vacuum environment. The sintered material is anaerobic or reacts with oxygen, so it must be sintered in a vacuum environment
Atmospheric hot-press sintering furnace: mainly oxygen hot-press sintering, hot-press sintering under atmospheric pressure environment.
Atmospheric hot-press sintering furnace: hot-press sintering by atmospheric protection or chemical reaction.
Applications
Advanced ceramics
Densification of pure boron carbide sintering is extremely difficult, so the elimination of pores, grain boundaries and volume diffusion needs to be carried out above 2200 ℃. Generally speaking, the relative density of ordinary boron carbide powder can only reach 80% to 87% when sintered at 2250-2300℃ at atmospheric pressure. When the temperature is close to the melting point of boron carbide, the mechanism is volume diffusion. When sintering at such high temperatures, the grains coarsen and grow rapidly, affecting the denseness of the material.
Hot-press sintering is the most widely used rapid sintering method for manufacturing boron carbide and its composite engineering devices. Hot pressing sintering with additives can strongly promote the densification rate and can obtain materials close to physical and chemical density, which can significantly improve the product performance.
Target material
General melting and casting method can not achieve the preparation of refractory metal sputtering targets. For two or more metals with large differences in melting point and density, it is difficult to obtain alloy targets with uniform composition by using ordinary melting and casting method. For inorganic non-metallic targets and composite targets, melt casting method can not help, powder metallurgy method is the best way to solve the technical problems in the preparation of the above targets. At the same time, powder metallurgy technology has the advantages of easy to obtain uniform fine crystal organization, saving raw materials, high production efficiency, has become the main preparation method and research hotspot of magnetron sputtering targets.
Please contact us to get high-quality vacuum hot press sintering furnaces, we'd love to offer you our professional service.