Are pit balls safe for babies?
Non Toxic Ball Pit Balls
Material
PE material like milk powder, baby can gnaw safety. All the balls are phthalate free, BPA free, lead free, no-toxic, anti-ultraviolet property, conforming to the standard of FOOD class. We passed the test of EN-71-1, EN-71-2, EN-71-3 tested by SGS.
Processing Technology
Blow molding process. No burr and more comfortable. The corner is vert strict with the control of the detail sand. The smooth design giver the baby more loving care.
Color
Safe color art presentation.Coming colors in nature, no fluorescer, safe colors exercise your baby's perception of color. Bright and attractive colors, such as red, yellow, green, blue, green, orange, pink, purple, white, ect. It is excellent for sensory stimulation.
Anti-swallowing
Perfect size can prevent baby to put it in the mouth. The diameter of each ball is bigger than 5cm.Do not worry about the baby's swallowing problem, that is, no worries when the child play with the ball.
Durability
Integrated moulding and thickened PE ensure every ball is high resilience and strong pressure resistance. Each ball will withstand over 150 pounds of weight and each ball can bounce many times atmospheric pressure Flexible, not dented. Don't believe us? Try stepping on it!
Package
All kinds of packaging, such as PVC zip bag, Mesh zip bag, Net bag , PE bag and so on. These strong and reusable bags are not only unique packaging, but also a good helper of clearing up.
Usage
It is very suitable for filling any ball pit, play tent, play room, baby swimming pool, play fence and bounce room. Ideal for baby or toddler ball pits, children's swimming pools, indoor fences and parties, baby bath toys. Excellent toys for pre-school or kindergarten children, outdoor and indoor play.
Clear up
The product has good antibacterial performance and does not need to be cleaned frequently, but it is also very convenient to clean. It only needs to be cleaned in clean water. You also can put the balls in net bag or mesh zip bag, then wash them in the washing machine, or use a professional washer to clean it.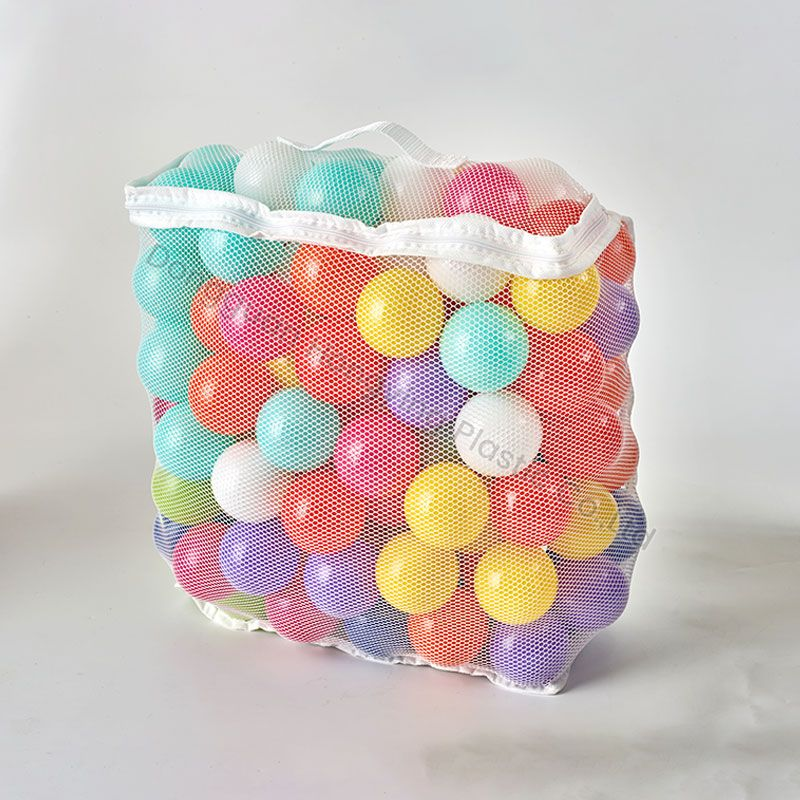 Balls designed for ball pits can pose a choking hazard for babies and small children. It's recommended to supervise young children and not use ball pit balls for children under 3 years old. Alternatively, foam balls or bean-filled balls can be safer options for younger children.
Non toxic ball pit balls for sale with big wholesale discount! We can provide you with our high quality non toxic play balls with competitive wholesale price. Don't hesitate to contact us for further negotiation.