Are cotton tents right for you?
Good quality cotton is regarded as perhaps the best tent fabric. With a long lifespan that easily justifies its initial cost, cotton is a great investment when compared with a synthetic tent, which tent has much higher depreciation.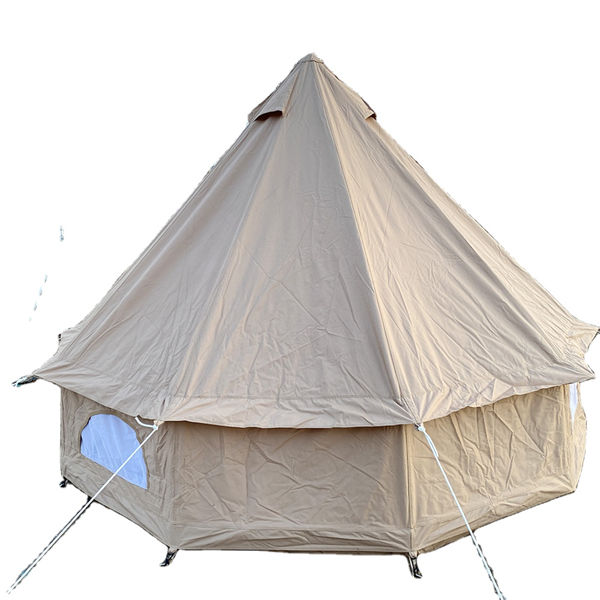 Waterproof Properties of Cotton
Normal synthetic tents have a waterproof coating applied to them. Unlike these, as a natural fibre, cotton's waterproof properties arise from its ability to absorb water and then swell to fill the gaps in the weave, preventing any water from penetrating the fabric. In addition to this, a Durable Water Repellent (DWR) can be applied to allow rain to bead and roll off the fabric's outer.
Weathering Cotton
It is good camping practice to weather a new cotton tent before use or after a long spell of storage. You soak the tent either by rain or the use of a hose. It is then left to dry naturally before repeating the process several times.
This 'activates' the cotton fibres, allowing them to swell and contract. Some densely woven cotton does not require weathering, though it does remain good camping practice as it allows you to check out the tent's seams and practice pitching before a new tent is used for a holiday.
TOP TIP
Seams are not actually sealed. The thread swells when wet to fill the needle holes. Any long term drips from slightly oversized holes can be cured by a dab of a seam sealant.
Reproofing is not supposed to be a regular part of maintenance. Instead it should only be done if the best tent fabric shows signs of leakage or wear.
Cotton Maintenance
Things such as dirt, detergent, oil and grease may damage a fabric and will impact the way cotton reacts to water.
Remove bird lime, oil and grease immediately, clean the area and, if necessary, re-proof.
TOP TIP
Cotton is high maintenance and a tent has to be thoroughly cleaned and dried before packing away if you're to avoid mildew. Store in a cool, well ventilated place away from vermin.
Try not to touch the sides of any cotton Canvas tent when it is raining as the body oils may allow water to pass through the fabric.
Is cotton for you?
Cotton is the perfect material for those who want a high quality camping experience. The weave allows water vapour to pass through the fabric to eliminate condensation. Combined with the extra weight and insulation you get that highly appreciated 'air conditioning' effect throughout the year. Long life and high resale values add to the attraction.