8 Ways to Use a Pouf in Your Home
Seats, tables, design accents, oh my! Poufs are a favorite piece of multipurpose furniture of Modsy designers. Endlessly versatile and adding a pop of personality to your home, they're a perfect accent piece for almost any room.
What is the point of a pouf?
So, what is a pouf and what's the point of having one in your home? A pouf is a solid cushion that sits on the ground, often among other living room furniture. They come in a range of sizes, but most often you'll find them averaging out around the size of a footstool. With a little less structure than an ottoman and a bit more structure than floor pillows, poufs sit somewhere in the middle of these two pieces of furniture—often with overlapping functions as ottomans and floor pillows but also offering their own unique purpose to a room. They're often made of woven or natural materials, and many add a pop of stylish flair to your home.
And what's the point of these pieces of accent furniture? Function and style, baby! To begin with, they're incredibly versatile. We'll walk you through the many ways and places around your home that you can use a pouf later in this post—but suffice it to say, poufs are what multipurpose dreams are made of. Not only that, but poufs are a great way to add some subtle-yet-trendy personality to a room.
What makes a pouf great?
There are a few things that take a decorative pouf from good to great. To begin with, durable material on the outside of the pouf will give your piece longevity. Even better? A machine-washable, removable cover. This one isn't a deal-breaker—but it makes maintaining the cleanliness of your pouf much easier! This is an especially good feature for homes with kids and pets. Good filling is also an essential of a great pouf. This helps a pouf retain its shape and allows for easy refluffing if it gets squashed down. Finally, the size of a pouf can be a make-or-break feature. You want a pouf that's not so big that it's like an ottoman but not too small where it's impractical to use. You'll definitely want to consider your space when choosing out the right size of pouf for your home!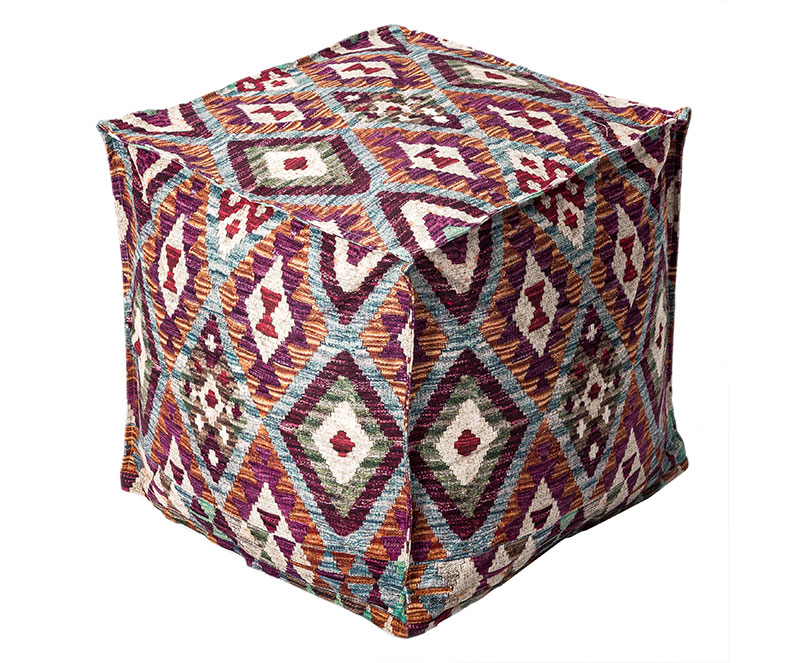 What is a pouf used for?
Pours are one of the most versatile pieces of furniture you can bring into your home, making them one of our go-to accessories! But if you want some ideas on how and where to use a pouf in your home, read on! We've rounded up 8 ways to use your pouf.
1. A Foot Rest
No chaise on your sofa? No problem. Pick up a pouf for your living room and use it as a footrest for any seat. They give you all the functionality of a sofa with a chaise, at a fraction of the price! Plus, they're lightweight and easy to move, so you can easily scoot it around your living space, or even move it from room to room as needed. And they're not just for living room designs. Try a pouf in your nursery as a footrest for your rocking chair or glider, or next to your chair in a reading nook!
2. Extra Seating
Talk about versatile extra seating! If you have company coming, or just need an extra chair, turn your pouf into that last seat so no one is ever left standing. This works especially well with poufs that are a bit taller and have a more solid filling. Using poufs as extra living room seating is a Modsy designer-favorite during hosting season when you need extra seats in a pinch!
3. A Side Table
A pouf with a flat(ish) top can make the perfect side table—and not just any side table, but one that's easily moveable for maximum flexibility! Add a tray to make it even more practical as a usable surface for drinks and candles. This is another great trick all hosts should have up their sleeves!
4. An End-of-Bed Bench
A pair of poufs is a simple way to add texture, pattern, and functionality to the end of your bed in lieu of a traditional bench. It will become your new favorite place to put on shoes, lay out the next day's outfit, or plop your suitcase for pre-vacation packing! Looking for a real bench? Check out our designers' favorite end of the bed benches.
5. Cushy Seating in a Playroom or Game Room
Poufs are soft, lightweight, and child-friendly. Because of this, low poufs make great kids seats in a playroom or game room! They're fun to play with, offer a nice low-to-the-ground seating option, and are easy to move around the room to wherever they're needed!
6. A Kid-Friendly Coffee Table
We just touted how kid-friendly poufs are. But you don't have to relegate them just to the playroom! If you have little ones, consider skipping the sharp corners of a coffee table and try a pouf (or grouping of poufs!) instead. Large poufs make a great kid-safe coffee table alternative for homes with young children. No fear of sharp corners here!
They can also be easily repurposed as fun seating in a kid's room later.
7. A Way to Fill an Empty Space
Have a random empty space in a room or hallway? A pouf can fill awkward, open spaces with ease. And they'll also add style and function, to boot! (This is a great way to give a pouf a place to hang, day-to-day while keeping it on-hand for use as an impromptu extra seat!)
8. A Pop of Personality
Poufs don't have to have a highly functional purpose in your space. They can also be purely decorative, and they happen to be a perfect way to add a bit of personality to a room! A pouf can act as a statement piece in your room's overall design, adding texture, color, and shape to a space you want to accent or highlight.