6 Reasons for Choosing Wall Hung Vanities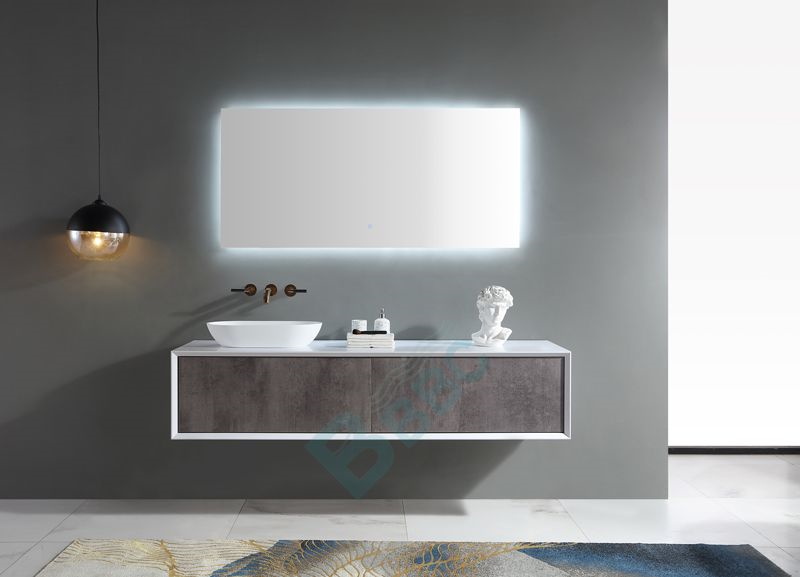 Certain bathroom suites cry out for specific furniture, especially when space is at a premium. Choosing a vanity that suits your planned space is important as it can affect the overall practicality of the bathroom suite.
The wall hung vanity unit is precisely the solution for almost any contemporary bathroom suite, offering a number of designs that can suit small bathroom suites, large family bathroom suites, cloakroom bathroom suites and en-suites.
So why choose a wall hung vanity unit? Put simply, wall hung vanity units and wall hung bathroom furniture save space, making them perfect in smaller bathroom suites.
1. It's easier to clean under a wall-hung vanity unit
With no legs to interfere with the mop or hoover, cleaning the space underneath the wall hung vanity is a simple and easy thing to do. This is also the case if your bathroom becomes a wet room either by design or with over enthusiastic showerers! If water floods the floor, it is easy to mop up when there are no furniture legs to get in the way.
2. Vanities mounted on a wall give an illusion of space
As wall hung vanity cabinets are mounted off the floor, they offer the illusion of more space, making the smaller bathroom feel bigger. They open up the room and free up the floor underneath the cabinet.
See how nice they look by adding a light under the wall mounted plywood bathroom cabinet.
3. Wall mounted vanity units are an efficient use of space
Wall Hung Vanity Units are generally not as wide, back to front from the wall, as floor mounted vanities and this can be a huge advantage if space is at a premium.
They can fitted into narrow wall space and utilise those areas within the bathroom or cloakroom which you may not have considered before.
4. You can fit a vanity on the wall to suit your height
With floor mounted vanity cabinets, or pedestal sinks, the basin height is already fixed by the height of the cabinet or pedestal itself.
This can be a problem if you are particularly tall or short; either you are bending right down to use the basin or must resort to a step or tip toes to be able to reach. Either way it's not comfy or a practical installation.
With a wall hung vanity, the cabinet and basin can be fitted to the wall, so it is at the height that suit your needs.
5. Exercise Your Creativity
The modularity of a wall mounted bathroom vanity makes it able to be customized in a variety of ways. The wall placement of your vanity can be mounted at any height you want to make the countertop just the right height for you. Wall mounting also means that you can make your wall mounted bathroom vanity the centerpiece of the wall or cleverly fit into a tight space like a glove. The lack of bulk leaves space for a number of possible storage options underneath.
A wall mounted bathroom sink vanity can be combined with other elements such as wall mounted shelf and drawer bridges to create a one-of-a-kind design that extends the functionality of your space. Add a mirror on the wall that complements your wall mounted bathroom vanity and your grouping is complete.
6. Added storage areas are provided
A Wall Hung Vanity will come with a cupboard or drawers underneath the sink, which would not be available on standard pedestal sinks. This is great for storing away bathroom necessities without everything being in plain sight.
About BBBC Bathroom Vanity Manufacturer
There are many different bathroom vanity manufacturers on the market today. We are constantly adding exciting new designs and bathroom cabinet manufacturers in order to provide you with a wide range of choices. Not only do we carry our own private label bathroom cabinets, but you will also find other products. We intend to be your "go-to store" for all your bathroom essentials, whether it's vanities, sinks, mirrors, bathtubs, toilets, or complete vanity sets. We have every type, color and size you can think of. Send Email to us or to contact us for more information. We have a professional staff waiting to help you with any questions you may have!